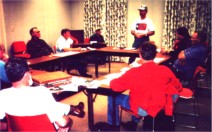 Commander David C. Moncus of Camp 207 explains the requirements of forming a chapter. Later he presents the new Candler County chapter with a Georgia State flag on behalf of the entire brigade(shown below). to add your text.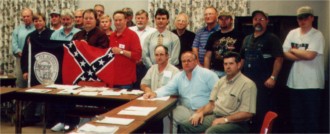 The historic gathering posed for this photo with the Georgia Flag. lick here to add your text.

Founder's Meetings
15 March 2001- 22 March 2001


This page was last updated on: November 22,
2001





CThe newly formed Metter Camp is grateful to Commander David C. Moncus(207th), Tim Lively( 207th), Fred Bussey(158th), and Tommy Miller(158th) for assisting with the meeting.







The following Thursday 22 March 2001 we returned to finish our chapter and to submit membership applications.

Commander Moncus presented Commander Crooms with a check for $100 on behalf of the Carter Camp and the entire Brigade to help the Dixie Guards get started.

Radio personality Mike Mull who is a reenactor and member of the Ogeechee Rifles SCV Camp invited everyone to join the upcoming ceremony at Lake Church cemetery on April 22nd.

New members pose after adjourning.
23 new member applications were submitted with our charter application.

Our SCV brothers in Camp 207 came down to help us sell flags and offer membership info at Metter's Blommin' Festival. We are grateful for their support. Seen below is a photo of the event submitted by young member Vic Fordham Jr.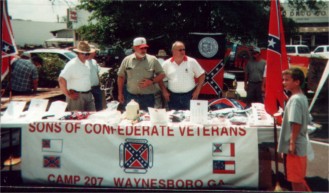 Working the booth from left to right: Adjutant Tony Thompson, member Marcus Coursey, Chaplain Grady Franklin, #207 Quartermaster Cecil Hickman( rear), and Lt. Commander Cliff Hendrix.